Walk the path of spiritual progress
with Equanimity
In life we often find it difficult to make important decisions, deal with difficult relationships or do away with emotional attachments🧠👥🍫
The struggle becomes real when we realize that no matter how much we try we often end-up getting into the play of extremes such as likes and dislikes, victory and defeat, praise and criticism, success and failure and so on🕸
Equanimity is that quality which enables us to observe calmness and poise even in the midst of a storm🌪 When embodied in the mind, emotions, and body it becomes a yogic way to embark on a journey of peaceful progress💫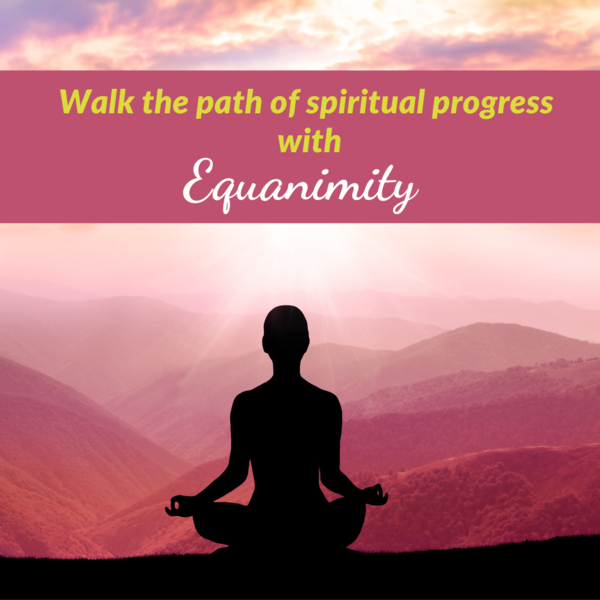 A 6 Week Online Practice Lab to advance in spiritual progress with Equanimity
Through this journey we would collectively aspire to align various parts of our being towards an active integrality which is not a work of a day but an active and continuous process which manifests in stages. We will move from one stage to next by practically applying Integral Yoga Psychology in taking decisions, doing away with attachments and working on difficult relationships with the gentle power of community.
Duration

2 May - 12 Jun

Weekly sharing circle and session with expert

Saturdays 4:00-6:30 PM IST

Daily commitment

20 minutes
Join the journey of spiritual progress with Equanimity
Practice Lab for Rs. 2100 (includes 18% GST)
May 02 Orientation to the Lab

4-5 PM

Every Saturday Sharing Circle

4:00-5:15 PM

Every Saturday Speaker Session

5:30-6:30 PM

Week 1 Learning to Step back

2nd May - 6th May

Week 2 Equanimity in the Physical (Health, Routine etc.)

7th May - 13th May

Week 3 Equanimity in the Lower Vital (Desire, Sensory Enjoyment etc.)

14th May - 20nd May

Week 4 Equanimity in the Central Vital (Passion, Ambition etc.)

21st May - 27th May

Week 5 Equanimity in the Higher Vital (Affection, Empathy etc.)

28th May - 3rd June

Week 6 Equanimity in the Mind (Will, Planning etc.)

4th June - 10th June

18th June Final Presentations on Participants' Journeys

4:00 - 5:30 PM
Sign Up Now if You
Find yourself being trapped in the play of good-bad, likes-dislikes, praise-criticism, success-failure

Experience being strongly impacted by the external situations in lives.

Aspire for an equanimous peace and calm

If you aspire for an inner anchor which guides you to perceive all external and internal turmoil with an equanimous peace.

Are ready to actively collaborate in the community space

The lab requires you to be an active participant. Participate in all the sharing circles and actively engage in micro-tasks of the day.
Evolve. Action. Community.
Learn to Evolve by Practicing Together as a Community
Learning with the Love of Community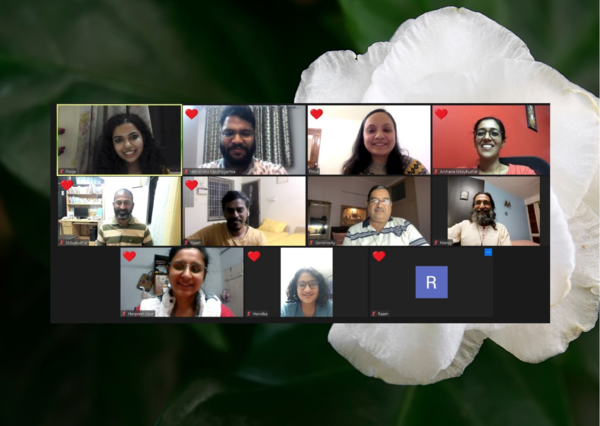 Sharing Circle (Saturday: 4 - 5:15 PM IST)
We will meet weekly in a sharing circle and hold a sacred sharing and listening space to learn deeply from each other, inspire each other, as well as collectively joyfully progress in our practice.
Session with Expert (Saturday: 5:30 - 6:30 PM IST)
Sharing circle will be followed by an expert sharing about the deeper nuances of equanimity focusing on theme of the week.
Learning by Living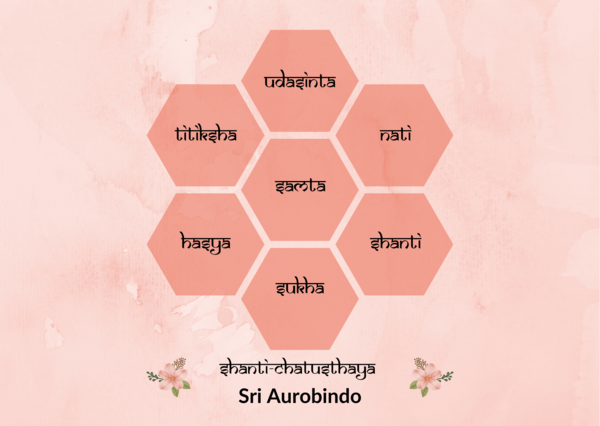 Tiny Task of the Day
Task of the days are practical ways which will help us go deeper and take small steps to experientially move from passive to active equanimity (Samta) as given by Sri Aurobindo in his seminal work Record of Yoga. These tasks will make our journey joyful and insightful and tie us in the thread of sincere consistency.
Quote of the Week from the Works of Sri Aurobindo and The Mother
A Quote is a simple yet powerful tool which when held consciously can become a living mantra in itself. We will read, write, paint and journal in order to access the living essence of the quotes received.
About Purnam
Purnam Centre for Integrality is a unit of Auroville Foundation, an Institution of Higher Education, Government of India and a UNESCO supported international city in the making in Tamil Nadu, India, with the aim of realising human unity. Purnam creates integral, innovative and transformative learning courses and communities, in light of the ground-breaking vision and works of radical evolutionaries, Sri Aurobindo and The Mother.
Pooja

Clinical Psychologist and Volunteer at Purnam

Since childhood I had a natural inclination towards inner mysteries and a thirst to live a life of gentle purity no matter what. During college, I grew into a lover of psychology and dived deep into the world of books, articles, and researches on human behaviour but knew that something essential was yet untouched and undiscovered. From the day I discovered the magic and beauty of integral yoga, I knew that this is the way! Since then, I am on a beautiful journey of co-travelling with fellow seekers on the path of Integral Yoga.

The Mother's Symbol holds a very special and sacred presence in my heart as it was through Mother's quality studies that I entered into the golden works of Sri Aurobindo and The Mother and found my soul community-Purnam. If you too wish to live practical yoga within the light of the collective, come join us in this beautiful journey :)

Harpreet

Child Counsellor and Volunteer at Purnam

Too lost in fulfilling the expectations and ascribing to standards of goodness created within society left me being a timid, shy, hesitant and self-doubting child. As I grew older, grew with me these shadows of doubt and confusions in knowing what I am. I started finding some clarity with the study of Psychology in my higher education. However, the clouds of low self worth still followed me throughout. Coming to the works of Sri Aurobindo and The Mother felt like coming Home. For the first time I felt free and peaceful. Spirituality became an actual walking, talking and breathing experience by being part of the Purnam Community and participating in spaces like these. Mother's Quality groups have been one of the most safe and purifying spaces I have experienced. Knowing equanimity by being equanimity through this lab in the loving and intensive space of a Sangha is a deep aspiration I hold. If you resonate with the aspiration to know by practicing and living the quality then this lab is for you my friend.
"Equanimity emerges as one of the most visible and valuable products of spiritual progress."
Sri Aurobindo
When Pooja holds a space, I feel ease, silence and a lot of gentleness in that space 🤍 She holds space with so much love and care🌷 She enjoys giving attention to each person. 🌷
Harpreet is very calm listener and being in a cohort she holds really feels like sharing a space which is helps you widen your view, look at your own shortcomings and lovingly accepting the changes that one needs to bring about in their life.
Frequently Asked Questions
All the live sessions have been designed with a special purpose of peer-to-peer learning and setting up the groundwork for the week's journey in the esteemed presence of our experts. These are the spaces where we are in direct contact with the vibrational consciousness of experts and peers which makes learning not just experiential but also highly inspirational. Live sessions ignite the spirit of the sangha and despite being connected virtually it feels much similar to sitting together in a circle. Intermittent participation breaks the rhythm of the week's assimilation.
Timings of all the live sessions are thoughtfully planned on weekends so as to accommodate majority of the participants. At the same time if there's something which is unavoidable and clashes with the timings, we suggest you to share the same with facilitators in advance so that it could be followed up later.
2-5 hours per week. 20 minutes per day for the task of the day. 2.5 hours on Saturdays for sharing circles and expert sessions.
True. Whenever we face challenges we tend to give up and feel overwhelmed. However, it is this practical difficulty which places equanimity at a higher altitude in yoga. If taken up sincerely in the love and power of the collective, challenges in themselves are fertile grounds for sowing the seeds of equanimity.
Yes. In case you feel the lab is not useful for your context post two weeks of the beginning of the journey, despite your 100% involvement, the full fee would be refunded.
Want to Participate in Purnam Labs & Courses?
Sign Up for Our Newsletter
Get in Touch with Equanimity Team
Get in Touch with your facilitator for any queries
-
Contact us
Purnam Practice Labs
Send us a message