Dinacharya:

Living the Ayurvedic Way
Align yourself with Nature's rhythm. Discover your body type and create a customized routine based on knowledge of Ayurveda and your current context. We will break down the routine into small, executable practices and experientially live an ayurvedic lifestyle.
Join this course to accelerate your healthy living journey with the guidance of an Ayurvedic expert and a vibrant community. 🌸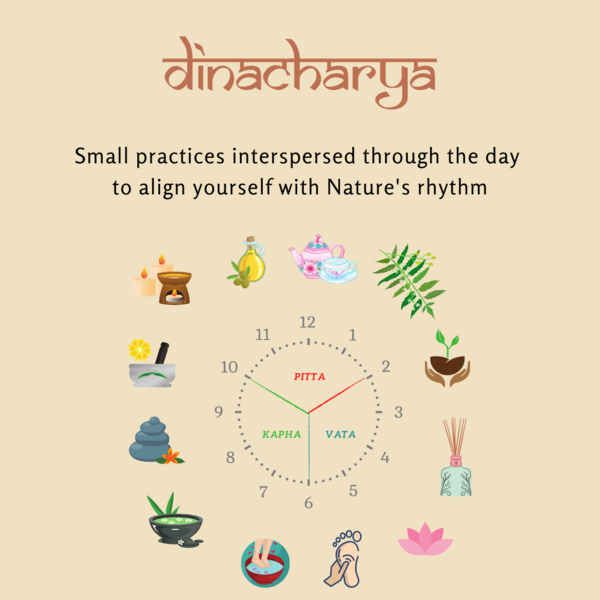 🌸 A 21-day journey: living the ayurvedic way

🛌 Did you know, how we sleep speaks a lot about our inner space?
For example, according to Ayurveda, those who often sleep on the abdomen are people who don't want to face the world or have the need to be protected. In the long run, it may bring depression and anxiety. Also in this position body doesn't take enough oxygen and one might feel more tired.
🌞 Just by changing our sleep position, we can improve our health drastically. Ayurvedic principles of Dinachariya & Ratrichariya provide a holistic and attainable path toward a healthy routine.
Join this experiential Lab where you will:
1) Understand your body type & personalize your daily routine of
food, sleep & exercise according to the ayurvedic principles.
2) Establish a holistic lifestyle through easy, joyous & small
steps to live to your fullest potential.
3) Connect with your body and self in a deeper way to enable
your spiritual growth.
Duration

5 Jun - 26 Jun

Live Session and Q/A

with Dr. Berengere, Ayurvedic Doctor from Auroville.

Sun, 11-12 AM

Sharing Circle to Learn from Each Other's Experience of Everyday 30 Minutes of Dincharya Practices.

Tue, 8 - 9 PM
Join the 21-day journey: Living the Ayurvedic Way
Practice Lab for Rs. 2100 (includes 18% GST)
5 June Orientation to the Lab

11 AM - 12 AM

Every Tuesday Sharing Circle + 30 Min Yoga Nidra (optional)

8 PM - 9 PM

Every Sunday Live Session and Q/A with DR Berengere

11 AM - 12 AM

Week 1 Discover Your Body Type and Living Your Ayurvedic Morning & Night Routine

6 June - 12 June

Week2 Living Your Ayurvedic Afternoon and Evening Routine

13 June - 19 June

Week3 Deepening and Sustaining Your Complete Ayurvedic Routine

20 June - 25 June

26 June Final Presentations on Participants' Journeys

10 AM - 12 AM
🌸 Sign Up Now if You Are
Someone who believes in Ayurveda and finds it difficult to practice it in daily life

You have read about Ayurveda, watched online videos or even consulted an ayurvedic doctor. It seems to solve your problem temporarily but you are not able to be consistent in your lifestyle. You find it difficult to maintain an ayurvedic lifestyle and the process is not joyous.

Facing challenges of the stomach, energy levels and sleep in your daily life

You feel lethargy in the morning or afternoons, you feel heaviness in your stomach after meals, and you feel there is a lack of deep and peaceful sleep.

Aspiring to live to your fullest potential through a healthy body and clear mind

You are looking to lead an energetic and productive life. You want to consistently be healthy and the best version of yourself



Evolve. Action. Community.
Learn to Evolve by Practicing Together as a Community
Learning is better with Community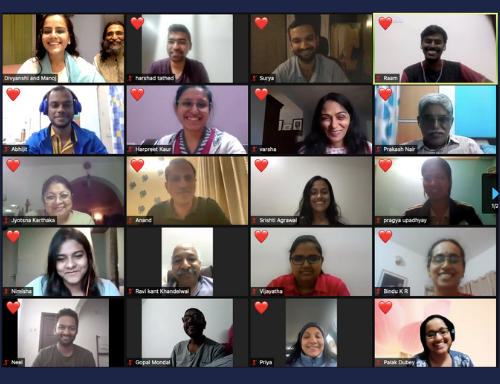 🌸 Sharing Circle
Weekly sharing circle, a sacred sharing and listening space to learn deeply from each other, inspire each other, as well as collectively joyfully progress in our practice.


Learning by doing
🌸 Daily, Simply & Joyous tasks

Receive a very simple task of the day/week with a boost of motivation from the community, and keep taking small steps towards your holistic health.
🌸 Quote of the Day
Receive an inspirational quote of the day from the works of Sri Aurobindo & The Mother to learn from them about integral health. Access the mantric power of the quote through the mantric reading method. This will help us connect with our body and self in a deeper way to enable
our spiritual growth.
About Purnam
Purnam Centre for Integrality is a unit of Auroville Foundation, an Institution of Higher Education, Government of India and a UNESCO supported international city in the making in Tamil Nadu, India, with the aim of realising human unity. Purnam creates integral, innovative and transformative learning courses and communities, in light of the ground-breaking vision and works of radical evolutionaries, Sri Aurobindo and The Mother.
Smrati Humar


Purnam Core Facilitator

By profession, I am a software engineer for the last 9 years. During swadharma program with Purnam, I discovered that bringing joy & health through food is my soul's true calling. This Journey got deepened and became sacred when I connected with the works of The Mother and Sri Aurobindo during svadhayaya and Savitri Painting. Since then, I am on a beautiful journey, co-traveling with fellow seekers who want to learn spiritual experientially and live life from their deeper souls. 🌷




In the past year, I have facilitated multiple online programs with Purnam like Sacred Cooking, The Light Body, Satvik Lifestyle and the 21-day eat more vegetable challenge. I have a deep calling to bring joy through food, refine cooking & eating experience and lead a holistic lifestyle. Based on the roots of Indian spirituality, I see that Ayurveda is the foremost knowledge system when it comes to food and lifestyle. I want to weave integral yoga and Ayurveda into my life and be a fine instrument of the divine. If you too wish to learn and live ayurvedic lifestyle joyously and collectively, come join us in this beautiful journey !😊

Dr. Berengere, Ayurveda


Ayurveda Doctor (Vaidya), Traditional Indian Medicine
Bachelor in Ayurvedic Medicine and Surgery (BAMS) from Gujarat Ayurved University, Jamnagar, India


Dr. Be first graduated in International Business in France and did a MBA in Manchester, UK. After 10 years of wandering in various countries and continents, she finally found what she was longing and searching for: Ayurveda, the Science of Life; the precious knowledge of body and mind that reveals the inner being, guides all along this life, and helps to understand our purpose.
Dr. Be currently serves at Santé, Auroville Institute for Integral Health for consultations and research. She helps her patients to understand where the disunion lies, which Dosha or nature in the body – (Vata/Air, Pitta/Fire or Kapha/ Water & Earth) creates the imbalance, the symptoms and eventually the diseases in the body and mind.

Testimonials About Purnam's Practice Labs
THIS IS A HUGE GRATITUDE POST!!🎉🎉🎊
This was one of the most exciting and enriching practice lab experiments that I got a chance to enroll myself in. This was the 'Culinary Arts' practice lab, facilitated by Smrati and organized by the Auroville.This practice lab was particularly invested in bringing in more sacredness and divinity in our food, eating habits and practices, and raising consciousness through food. This workshop comes practice lab brought in so much divinity, spirituality, and sacredness in my heart and soul that I had never heard before. It opened up pores in my heart and mind reclaiming that spirituality can be achieved through the most mundane and ordinary places of our kitchen and heart. The journey taught me mindfulness and beauty from within and in the moment.🌼
This journey or I should rather say, life-altering experience had brought in more clarity, balance, and resilience in my life I am truly grateful and blessed to Smrati for holding such a lovely and sacred space for all without any inhibitions!🍜🍳🍿🍓🍝
Dr. Be is an incredible Ayurvedic practitioner. She always makes you reflect and cultivate awareness of your body, rather than blindly pop in herbs and pills. She makes you more self-aware and develops a deep relationship with the body. She uses mostly very simple herbs from the kitchen, but at the right time, in the right way, in the right quantity it creates a magical affect for your body. 🌼🌼🌼🌼🌼🌼🌼
Frequently Asked Questions
Yes, it is very important to attend all live sessions as the experience cannot be recorded. I urge you to make time for this experience in your life.

Right now, we are only able to offer this time and it is compulsory to attend. Please reach out to me for discussing your situation.


4 -5 hours per week. 30 minutes per day for the task of the day, 1 hour on Wednesday for sharing circles & collective reflection, and 1 hour on Sunday for Q&A and expert sessions.
Yes. In case you feel the lab is not useful for your context post 1 week after the beginning of the journey, despite your 100% involvement, the full fee would be refunded.
No. You just need to be open and receptive to learn experientially.
Want to Participate in Purnam Labs & Courses?
Sign Up for Our Newsletter
Get in Touch with Dinacharya Team
Get in Touch with your facilitator for any queries
-
Contact us
Purnam Practice Labs
Send us a message