Practice 'Work as Sadhana'
with Deep Work Sprints
Practice 'Work as Sadhana' and 'Becoming the Work'. To stay focused on planned tasks and complete them without getting diverted by disturbances. We will have four time slots we practice working using deep work sprints with intensity and concentration. You can join as many sprints as you can.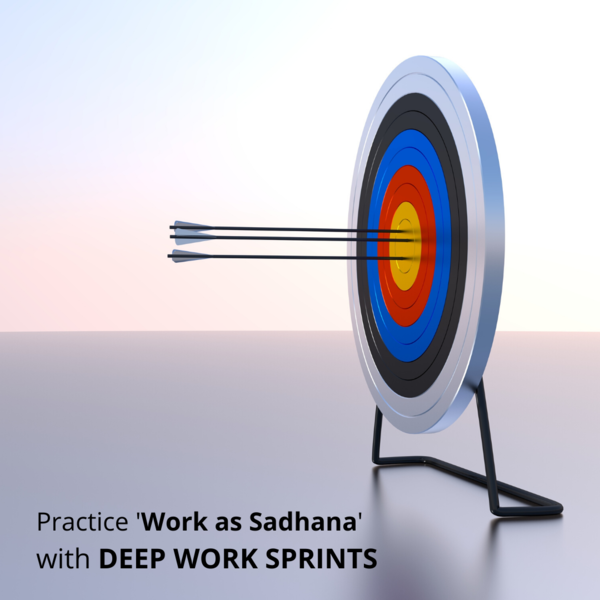 A 4 Week Online Practice Lab to Hone the Skill to Concentrate for Longer Durations, Focusing on One Task at a Time
Our concentration capacity and the duration of concentration are constantly being tested in today's world by multiple factors such as social media. Through the deep work sprints, we will learn to stay focused on work for the fixed duration and complete the set tasks as planned.
Duration

7 Mar - 1 Apr

Practice Sessions


Monday - Friday 4 Work Sprints

Daily Commitment Where You do Your Own Work with Utmost Concentration

min 1.5 hours

Join the Immersive Deep Work Sprints
The Practice Lab is offered freely as a gift.
Mon - Fri Early Riser Sprint

9 - 10:25 AM IST


Mon - Fri Afternoon Sprint

3 - 4:25 PM IST
Sign Up Now if You Are
Struggling with your daily work

Are you getting frustrated daily for having not completed the planned tasks in your calendar, then come, let us practice as a collective to bring out our full potential.

Aspiring to improve your concentration skill

Develop your ability to concentrate on single task at a time and accomplish the daily calendar tasks as planned without getting carried away by frequent disturbances.

Ready to immerse in a space of concentration and discipline

The lab requires you to devote yourself sincerely in the deep work sessions and concentrate on your own work, one task at a time, with a strong intention of not getting disturbed by internal or external factors.
Evolve. Action. Community.
Learn to Evolve by Practicing Together as a Community
Concentrate as a collective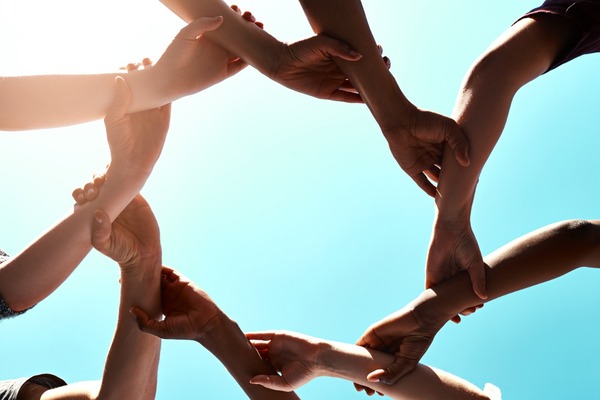 When individuals with a similar aspiration gather together, the energy in the space intensifies. Let us gather together to utilize the power of this collective energy to progress in work as an individual and also as a group.

Growing by being accountable & meeting targets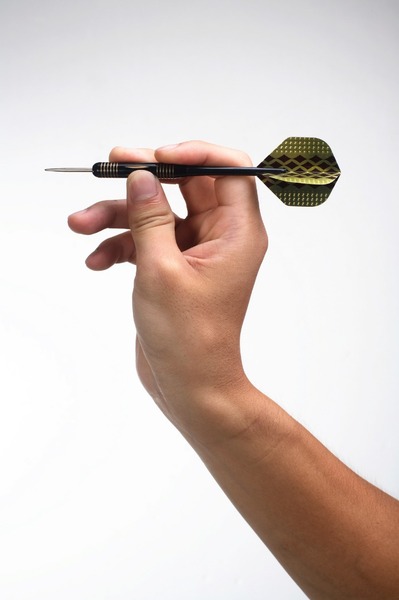 Being accountable to the collective with your daily presence in the google meet nurtures the sincerity and dedication in your work. When you work with full concentration, it helps you meet your targets on time.
About Purnam
Purnam Centre for Integrality is a unit of Auroville Foundation, an Institution of Higher Education, Government of India and a UNESCO supported international city in the making in Tamil Nadu, India, with the aim of realising human unity. Purnam creates integral, innovative and transformative learning courses and communities, in light of the ground-breaking vision and works of radical evolutionaries, Sri Aurobindo and The Mother.
Raamkumar L


PhD Scholar, IIT Madras

I am Raam from Tamil Nadu. My aspiration is to evolve everyday by learning about the different selves within me and working to transform & integrate them. Learning & practicing in a collective space and offering myself to work makes me come alive.

My deepest aspiration to build 'Deep Work Sprints' lab is to learn as a collective to be efficient at work by developing the capacity to organize the tasks and concentrate on one task at a time instead of juggling between multiple tasks.


My aspiration is to live a conscious life with awareness and intention. My current quest is to look at my 'Work as Sadhana' and 'Becoming the Work'.

My intention behind this lab is to improve my ability of concentration and organization. I want to increase my intensity during my work sessions. With consistency and repetition, I want to improve these qualities.

If you also have similar aspirations, come join us in this journey.
Hear from what others are saying about deep work sprints...
It helped me in dedicating time everyday and having an intention to complete work without distractions. I noticed that I was able to concentrate in initiating activities that were pending since long and take them forward with full focus.
Deep sprint sessions are great as it helped me to accomplish my daily small goals in less time.

It also assisted me to stay on the given task as joining Gmeet held me accountable.
Frequently Asked Questions
You decide to work on any one task for each sprint and focus only on that task for the set duration without involving in any other tasks or activities like chatting with friends/colleagues, looking at social media, etc. The pure intention to work on one task at a time increases the concentration tremendously.
You can decide according to your own convenience. You can do the same task that you do normally in your day but with the intention to concentrate only on the particular planned task during the sprint.
All sessions are 85 minutes each. In case the tasks you plan to do demand long duration, you can customize the sprint duration accordingly.
We will follow the following format:
- Share your sprint goal 5 minutes
- Opening Practice 5 minutes
- Deep Work Sprint 65 minutes
- Update about the goal 5 minutes
- Closing Practice 5 minutes

We highly recommend the following in every sprint:
- Keep camera on (as much as possible)
- Choose challenging/important work
- Choose 1 task for the entire duration
- Be fully concentrated on the task
- Keep notepad or paper/pen ready (to note down immediately anything that pops up in mind unrelated to sprint work and continue sprint immediately)

Recommended Boundaries:
- No mobile
- No social media
- No email
- No talking/gossip
- No internet surfing

Want to Participate in Purnam Labs & Courses?
Sign Up for Our Newsletter
Get in Touch with Deep Work Sprint Team
Get in Touch with your facilitator for any queries
-
Contact us
Purnam Practice Labs
Send us a message