Your Life is as Organised as Your Drawer:
Declutter Your Home
Are you overwhelmed and finding it impossible to get stuff done? Are you tired of managing to-do lists and always wished for more time on your clock? Do you keep waiting to finish off important stuff before giving time to putting things in order?
Create a clutter-free life by building simple yet powerful habits that can organize your surroundings and your life.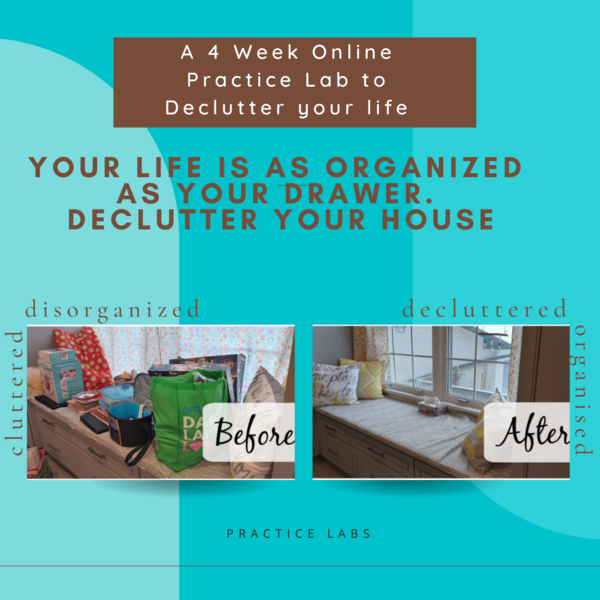 A 4 Week Online Practice Lab to Declutter Your (Home) Life
Do you struggle in getting stuff done or are you constantly bombarded with conflicting ideas, ending up postponing important decisions? Do you find yourself often confused?
Well, your surroundings reflect how organized your thoughts are. Hard to believe but true. If you reverse-engineer and start organizing your surroundings you will notice the positive effects it has on your mental state and overall wellness.
In this lab, we invite you to join us in an intense yet practical approach to decluttering by finding the root cause of how clutter builds up and by imbibing habits that would help you transform your surroundings with an aspiration for getting organised.
Duration

19 Dec - 16 Jan

Sharing circle

Sunday, 7 - 8 PM IST

Daily commitment

30 minutes
Join the Decluttering Journey
Practice Lab for Rs. 2500 (includes 18% GST)
Live Orientation Session 19th Dec, 21

7pm to 8pm

WK1: Daily Tasks Decluttering

Sharing Circle 26th Dec, 21

7pm to 8pm

WK2: Daily Tasks Decluttering + Cleaning

Sharing Circle 2nd Jan, 21

7pm to 8pm

WK3: Daily Tasks Decluttering

Sharing Circle 9th Jan, 22

7pm to 8pm

WK4: Daily Tasks Habit Formation

Sharing Circle 16th Jan, 22

7pm to 8pm
Sign Up Now if You Are
Feeling overwhelmed and stuck in life

You are finding it difficult to make decisions and just trying to catch up with time. You are not able to implement ideas and don't see yourself making progress.

Aspiring to get organised & bring new energy in life

You would like to decrease your stress & anxiety levels, become more productive & efficient, and want to get time to work in your favour. If you have been yearning to declutter your home and bring a breath of fresh energy into your life, welcome.

Looking for a community of practitioners

The lab requires you to be an active learner: engaging in collective decluttering, sharing photos & insights and participating in our sharing circles.
Evolve. Action. Community.
Learn to Evolve by Practicing Together as a Community
Learning is Better with Community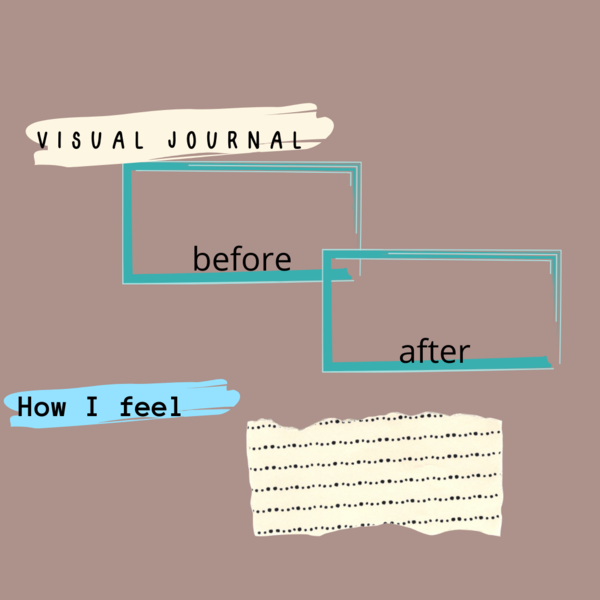 Sharing Circle
Weekly sharing circle, a sacred sharing and listening space to learn deeply from each other, inspire each other, as well as collectively joyfully progress in our practice.
Visual Journals
Create an illustrated log of the before and after pictures as you go through the decluttering journey and journal you reflection of the deeper inner movements in you.
Learning by Doing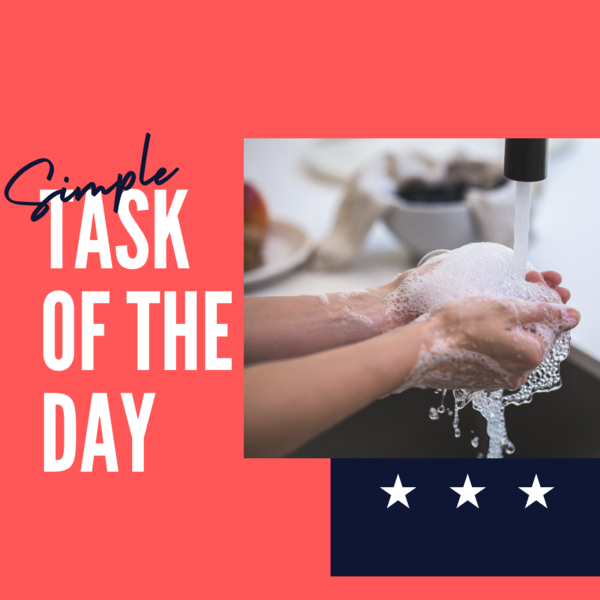 Task of the Day
Receive a simple task of the day/week with a boost of motivation from the community, and keep taking small steps towards your goal.
Quote of the Day
Receive an inspirational quote of the day from the works of Sri Aurobindo & The Mother. Access the mantric power of the quote through the mantric reading method.
About Purnam
Purnam Centre for Integrality is a unit of Auroville Foundation, an Institution of Higher Education, Government of India and a UNESCO supported international city in the making in Tamil Nadu, India, with the aim of realising human unity. Purnam creates integral, innovative and transformative learning courses and communities, in light of the ground-breaking vision and works of radical evolutionaries, Sri Aurobindo and The Mother.
Karthik has 20+ years of experience managing teams of change agents with sizes as large as 2500 to as small as 5. In his professional career, he has led several high-impact Continuous Improvement projects and has led several organization-wide business transformation initiatives. Personally, he is passionate about teaching, learning languages, and discovering the timeless truth in ancient Indian literature. He got introduced to Integral Yoga in early childhood and has an aspiration to serve in this collective journey. He built this practice lab as he found himself drowned in the clutter with years of neglect of his personal surroundings (life). He is re-discovering the balance between work and life. If you also seek this balance in life, then this lab is for you.
Quotes on Sangha & Decluttering
One learns a quarter from the teacher, a quarter from one's own understanding, a quarter from his co-learners, and another quarter with experience.
I have never met an exception to this rule: people who don't know how to keep their things in order—their ideas are in disorder in their heads, always.
Frequently Asked Questions
It is the power of the Sangha and collective aspiration that this lab is modelled around. Every live session acts as a catalyst in your journey.
It is planned on the weekend and in the evenings to suit most timezones. Please write to us if you have a specific concern.
If you decide to withdraw before the start of the course, you can request for a refund.
The minimum time commitment expected is 30min per day to learn, practice and share. However, since this decluttering journey is unique for every participant given their context, some participants might need to spend more time with the daily tasks.
Tasks and meetings are planned with the holidays in mind - Christmas, New Year and Pongal.
Want to Participate in Purnam Labs & Courses?
Sign Up for Our Newsletter
Get in Touch with Decluttering Team
Get in Touch with your facilitator for any queries
-
Contact us
Purnam Practice Labs
Send us a message