Build a mindful 5 AM routine
with Conscious Mornings
🌄 Do you aspire to rise up early with the rising sun?
😊 Do you wish to start your day with a clean and clutter-free inner space/ mind?
💫 Do you want to live your day with the guidance of your inner light?
If yes, join us in the "Conscious Mornings" journey to
• Become a 5 AM riser
• Improve focus with breath watching
• Access Inner Guidance through journaling
The journey of "Conscious Mornings" has its foundations in Sri Aurobindo's and The Mother's Integral Yoga Psychology.
The practices in the journey are guided by Manoj Pavithran, an Integral Yoga Practitioner of more than 25 years, in weekly guided sessions. The daily practice sessions are facilitated by core facilitators - Namita B and Santu M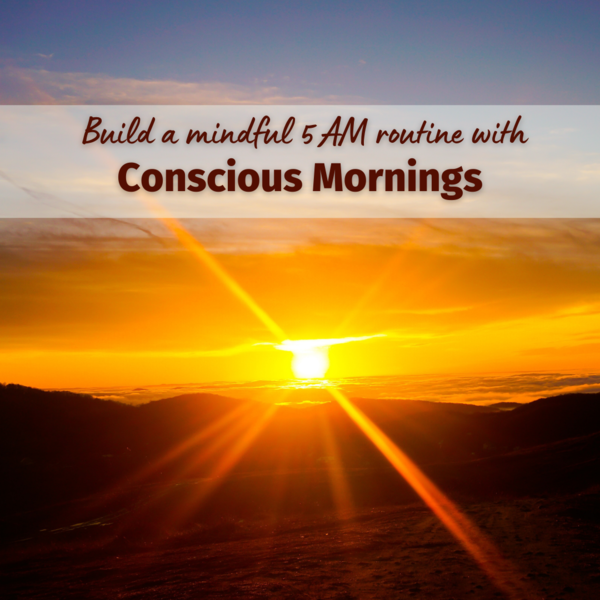 A 4 Week Online Practice Lab to become 5 AM riser and build a mindful routine
Are your days unorganized, chaotic, and disordered? Do you sleep at different times every night and wake up groggy or tired? Transform your routine with "Conscious Mornings" by following an evening routine to peacefully go to sleep and starting the day at 5 AM consciously with journaling and breath watching.
Duration

4 Apr - 30 Apr

Collective Practice & Sharing

Mon-Fri 5:15-6:00 AM

Sat 7:30-8:30 AM

Daily Commitment (Mon-Sat)

45 to 60 mins
Rise early at 5 AM and build a mindful routine with Conscious Mornings
Practice Lab for Rs. 2100 (includes 18% GST)
Preparation Form an Evening Routine

Mar 27 - Apr 03

Monday Guided practices with Manoj Pavithran

5:15 - 6:15 AM

Tuesday - Friday Journaling & Breath Watch

5:15 - 6:00 AM

Week 2 Inner Relationships

Apr 11 - Apr 15

Week 4 Inner to Outer Relationships

Apr 25 - Apr 29

Closure Final Presentations

Apr 30 7:30 - 8:30 AM
Sign Up Now if You
Want to wake up early and take charge of your day


You have a strong aspiration to wake up early. You are looking for one thing that can set the tone of your day.


Aspire for inner alignment and inner guidance

You aspire for a calm and clear inner space and inner guidance to help you in life decisions, to unravel your potential, manage your relationships

Are ready to commit sincerely for self growth

The lab requires you to be present for all sessions early in the morning daily. A cohort of motivated aspirants would accompany you in the journey.
Evolve. Action. Community.
Learn to Evolve by Practicing Together as a Community
Learning is better with Community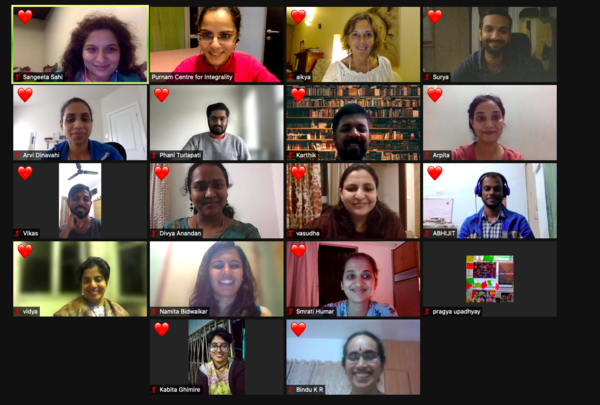 Sharing Circle (Saturdays 7:30-8:30 AM)
Weekly sharing circle, a sacred sharing and listening space to learn deeply from each other, inspire each other, as well as collectively joyfully progress in our practice.


Learning by doing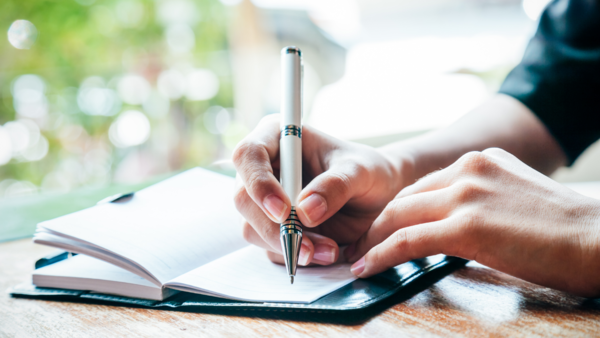 Collective journaling and breath watching
We wake up at 5 AM and come together at 5:15 AM for doing deep inner work with journaling and breath watching. This aligns us with our values and builds clarity to take charge of the day.


About Purnam
Purnam Centre for Integrality is a unit of Auroville Foundation, an Institution of Higher Education, Government of India and a UNESCO supported international city in the making in Tamil Nadu, India, with the aim of realising human unity. Purnam creates integral, innovative and transformative learning courses and communities, in light of the ground-breaking vision and works of radical evolutionaries, Sri Aurobindo and The Mother.
Namita B, Your Facilitator

Operations Consultant

I am Namita and professionally I am an Operations consultant. Being honest, gentle, and open makes me feel most aligned with myself. I aspire to bring authenticity and openness to my being and my actions.

This lab is the culmination of my aspiration to build a routine that helps me become more authentic and open. I have experienced the positive snowball effect of starting my day early and clearing my inner space through journaling. I aspire to establish these practices as part of me by taking this journey. If you also have similar aspirations, please join us in this transformational journey




Santu Mahapatra, Your Co-Facilitator

Software Engineer

My aspiration is to live a conscious life with awareness and intention. In the past decade, this quest has led me to different practices. The practices of breath watching and journaling have helped me to get a lot of clarity and calm in my life.




The simple practice of breath watching has helped me quieten my mind and concentrate better. The practice of journaling is helping me to integrate different aspects of my self.




My intention behind this lab is to strengthen my practices with consistency and repetition. If you are also aspiring for clarity, calm and concentration, then come join us in this journey.
See what people have to say...
Namita brings in sincerity and dedication to the spaces she facilitates. She is intuitive. The spaces she holds are dynamic and catch the pulse of the participant which makes the journey more personal and special.
I have been part of the practice labs held by Namita in the past few months. I would say it was a living experience which was more than a practice lab. I saw a true sincerity in her, the way she held the space and drove the daily tasks was amazing. She ensures that we travel with her along in the journey. Would love to be part of her sessions going forward.
Frequently Asked Questions
The journey is designed to help you go into your depth layer by layer. Hence it is very important to follow the journey without missing any session. Monday sessions are guided sessions and must not be missed.
The power of the practice lab lies in collective energy. If the timing does not suit you due to time zone difference, reach out to us, we would update you on any upcoming labs suitable to your time zone
If at the end of the first week, your participation is less than 5 days, we would request you to leave the journey and offer you a full refund of the amount paid

A time commitment of 45 to 60 minutes daily - Monday to Saturday
To get up early, it is important to sleep early so that the body receives sufficient rest to wake up fresh. In this lab, one week prior to beginning the lab, we would help you to establish an evening routine that would act as a foundation on which your new morning schedule can stand. We would share small practices and appropriate routine changes like time to have dinner, screen exposure before sleep etc.
Want to Participate in Purnam Labs & Courses?
Sign Up for Our Newsletter
Get in Touch with Conscious Mornings Team
Get in Touch with your facilitator for any queries
-
Contact us
Purnam Practice Labs
Send us a message